The hydraulic hex long pipe nipple designed by us is having a leak free connection process and general pumping applications. It is available in brass, steel, and stainless steel and all other customized material as per the requirement of the customers. It has accurate designs and highly rust resistant. That is the reason we are considered a trusted and best manufacturer, supplier and exporter of the hydraulic male elbow.
Quality engineers for manufacturing best quality hydraulic hex long pipe nipple.
Best sealed packaging and plastic wrap for cleanliness.
The pressures are calculated in accordance with power piping code.
Rolled male threads also available for extra strength.
Materials used are 316 Stainless Steel, Brass and Steel and customization in material is available as per requirement.
All the exposed threads are protected to prevent damage.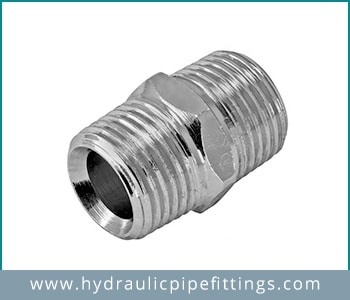 Model No.
Pipe Size
Dimensions
P-PT, NPT
L
F
E
PE-HLN-2N-SS-L1.5
1/8
38.10
11.10
4.80
PE-HLN-2N-SS-L2.0
1/8
50.80
11.10
4.80
PE-HLN-2N-SS-L2.5
1/8
63.50
11.10
4.80
PE-HLN-2N-SS-L3.0
1/8
76.20
11.10
4.80
PE-HLN-4N-SS-L1.5
1/4
38.10
14.30
7.10
PE-HLN-4N-SS-L2.0
1/4
50.80
14.30
7.10
PE-HLN-4N-SS-L2.5
1/4
63.50
14.30
7.10
PE-HLN-4N-SS-L3.0
1/4
76.20
14.30
7.10
PE-HLN-4N-SS-L4.0
1/4
101.60
14.30
7.10
PE-HLN-6N-SS-L1.5
3/8
38.10
17.50
9.70
PE-HLN-6N-SS-L2.0
3/8
50.80
17.50
9.70
PE-HLN-6N-SS-L2.5
3/8
63.50
17.50
9.70
PE-HLN-6N-SS-L3.0
3/8
76.20
17.50
9.70
PE-HLN-6N-SS-L4.0
3/8
101.60
17.50
9.70
PE-HLN-8N-SS-L2.0
1/2
50.80
22.20
11.90
PE-HLN-8N-SS-L3.0
1/2
76.20
22.20
11.90
PE-HLN-8N-SS-L4.0
1/2
101.60
22.20
11.90
PE-HLN-8N-SS-L6.0
1/2
152.40
22.20
11.90
PE-HLN-12N-SS-L2.0
3/4
50.80
27.00
15.70
PE-HLN-12N-SS-L3.0
3/4
76.20
27.00
15.70
PE-HLN-12N-SS-L4.0
3/4
101.60
27.00
15.70
PE-HLN-16N-SS-L3.0
1
76.20
34.90
22.40
PE-HLN-16N-SS-L4.0
1
101.60
34.90
22.40